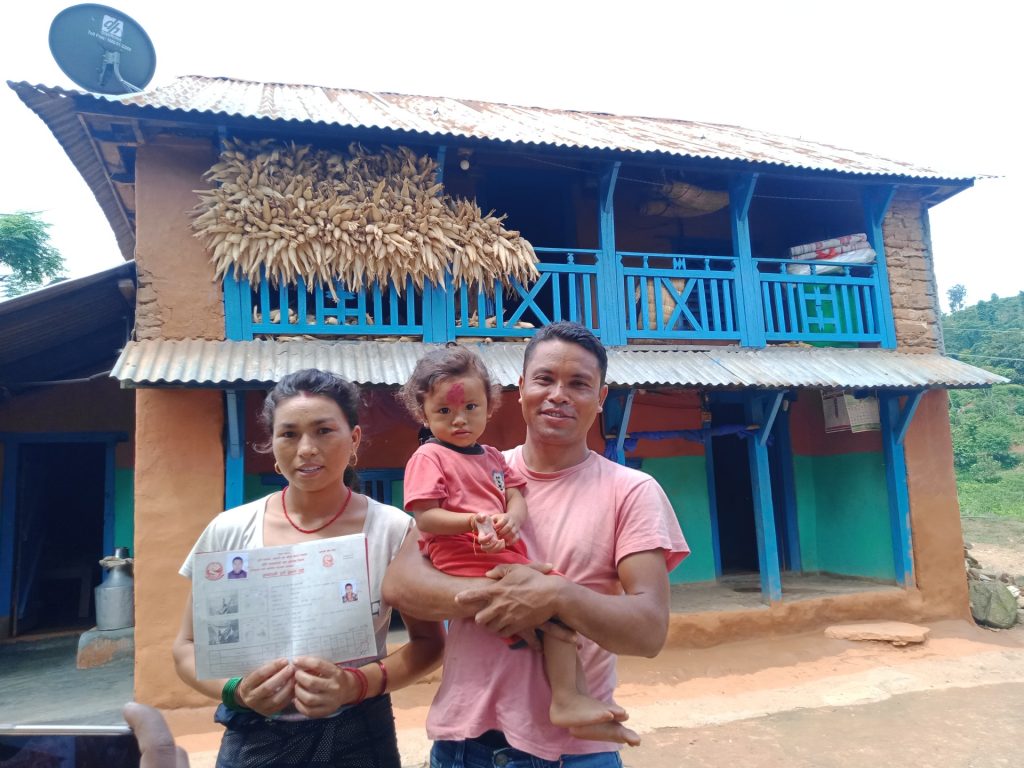 Women make significant contributions to the agricultural economy of Nepal, but when it comes to claiming legal ownership over the land, their share in land is almost negligible. Traditionally, land and property are inherited from father to son in a patriarchal system that leaves wives and daughters with no legal share, making their livelihoods vulnerable.
To ensure women's equal rights to own property, Felm's partner organization SAHAS Nepal has advocated and guided through an easy mechanism for husbands and wives to register land in both their names, paying a mere 100 NPR as a registration fee to the land revenue office. Sushila Nepali, 28, and her husband became the first in their village to receive a joint land ownership certificate.
Sushila lives with a family of four, including her husband and two children, in a small Dalit village in Rishing Rural Municipality, Tanahun. Majority of the villagers there, including her family, depend on agriculture and livestock farming to make ends meet.
According to Sushila, after receiving joint land ownership with her husband, she feels a sense of empowerment and ownership. "It is our first step towards community transformation", says Sushila.
She has also shared her learning amidst her fellow community group members to motivate them to apply for the joint ownership. She adds that she has now gained an easy access to loan from the cooperatives as well.
Motivating other community members
Her husband says: "It is not just a piece of paper, but it enables and empowers women to live with confidence and courage in the family and society. I feel proud and happy that my wife owns a land in her own name. I should have done this way before."
Until now, with the help from the project, already 18 families in Rishing have made joint land ownership certificates. This has set a strong examples of gender equality in the history of this region where women still have very little control over resources like land.
During numerous face-to-face discussions and Community Based Organizations (CBO) meetings, which included both husbands and wives, ward representative and CBO leaders, it was found that many people were not aware of the guidelines and possibilities about the joint land ownership. The villagers realized the benefits, such as that the mechanism giving women an easy access to a loan from a cooperative.
"The men were reluctant at first, but once they understood the benefits of joint land ownership, they were ready to apply for the registration," says Kamala Nepali, a Social Mobilizer of the project.
Men became more supportive once they realized that government itself was promoting women's ownership of land and this will eventually lessen the land taxation burden off their own shoulder.
Long-term commitment to Nepal's development
Already in 2019, SAHAS Nepal, through a development cooperation project funded by Felm, approached the villagers to form a community group. Sushila became a member of the group and started participating in various trainings, and community development activities to improve the villagers' income provided by the project. With her newly found confidence and awareness, she then started lobbying with the local government agencies to address and improve social issues in her community. Now the work is truly bearing fruit.
Felm-supported project has aimed at sensitizing beneficiaries, communities and right holders to their fundamental rights as guaranteed by the Nepalese Constitution. The project has been successful in enhancing the lives of persons with disabilities, Dalits, landless people and other vulnerable groups in the fields of livelihood, education and preventable mental and psychosocial health care. The project has also been able to empower local smallholder farmers and their households.
Felm is an internationally active organization established in 1859. It works globally in 30 countries with more than 100 local partner organizations. Felm Nepal is the largest and oldest Finnish civil society organization working for Nepal's development, and a key partner for Finland's Ministry for Foreign Affairs. Felm first begun its development cooperation activities in Nepal in 1977. Felm is affiliated with Social Welfare Council of Nepal as Felm Nepal since 2009.
***This work is done with support from Finland's development cooperation.***