Dhansara Damai, 52, husband went to India for migrant work but has not been in touch since 15 years. Out of her two sons, the eldest son died while working in India. After her son's death, the daughter-in-law left behind three grandchildren and got married again. Now Dhansara the grandmother is the only guardian of the children. She has no other source of income for taking care of her grandchildren except by doing wage labor.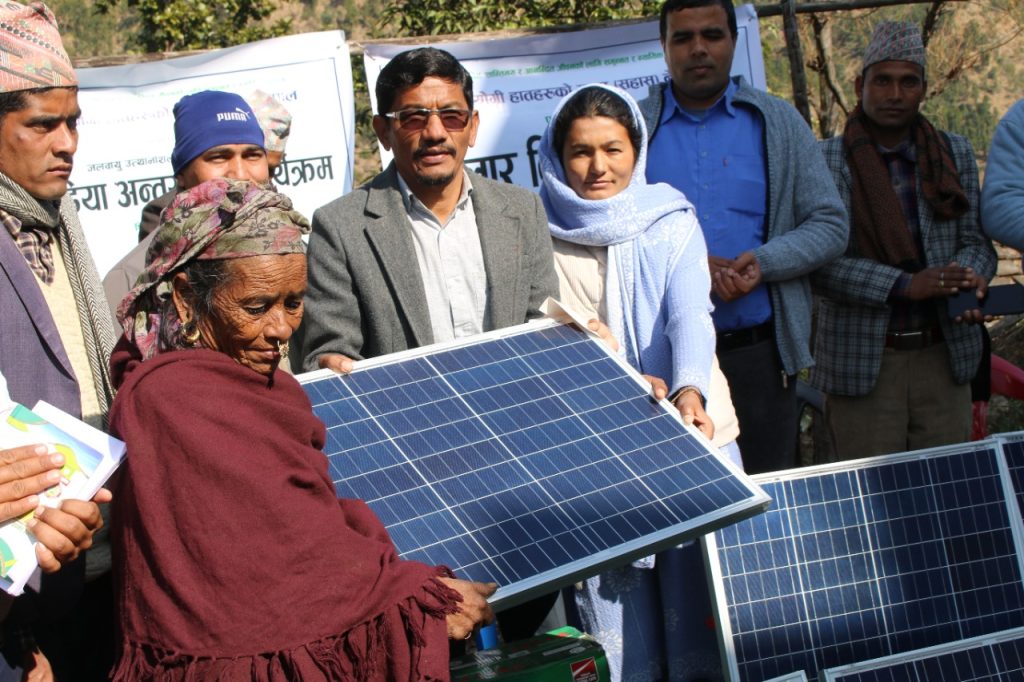 The solar lighting system has enabled to work Dhansara and helped grandchildren to study at night.
For three years, Dhansara and her family were unable to light their home due to a broken solar light and lack of funds to fix it. They had to be dependent on pine wood for lights, making it difficult for Dhansara to cook and for the children to read or study in the evenings. Since her grandchildren are used to help her with her heavy chores, they for example have to cut grass outside of their school, and hence they only have time to study in the evenings.
The most distant villages do not yet have access to the main grid line of electricity in Jajarkot. The vast remainder depends on solar lights and pine wood for illumination after dark and has no access to television and radio. Women and children in particular are exposed to the smoke emissions produced by those lamps.
Paila project, implemented by SAHAS Nepal, is introducing and promoting women-friendly climate-resilient technologies and promoting renewable sources of energy such as solar energy. Just like in other villages of Nepal, now ALSO Dhansara's house has four lights burning brightly from solar energy. It has also become easier for her to do her chores at night as the lights are lit outside. Solar lights have made cooking easier too. Even though her grandsons help with farming and animal husbandry during the day, they now can happily read in the evening.
"Earlier, I used to feel sad because my grandchildren couldn't read. They used to say that we would fail if we didn't learn," says Dhansara. "The solar lightening system has not only enabled us to work late but also helped these children to do the homework at night", she adds.