Parbati, 25, has been thrilled to see her first harvest after the improvements brought by a Felm Nepal funded project in her village. Now her family enjoys fresh, healthy produce, selling some of it in the local market.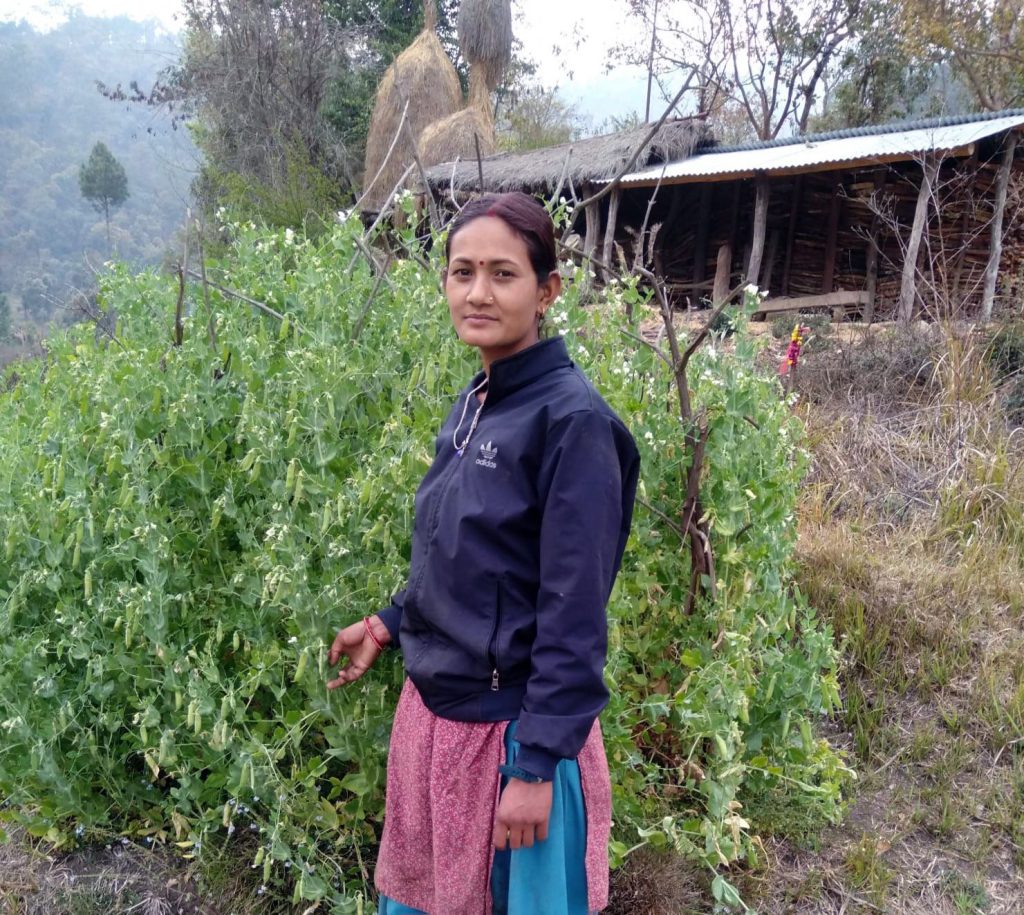 Parbati Buda Kshetri Jethara, a 25-year-old housewife and mother of two children, lives with her family in Jorayal Rural Municipality in Doti district of Western Nepal. Due to health issues, her husband had to quit his job as a driver last year, which resulted in her family facing financial pressure.
Things slowly started changing when Parbati learned about the importance of food and nutritional security for her family after joining Patada Dalit Basti Goat Rearing Farmer Group in May 2022, formed by LI-BIRD and its SAKSHAM project funded by Felm Nepal.
With the assistance of the project, she received home garden training, different types of vegetable seeds, fruit and fodder saplings, and home garden tools. She learned the new methods of growing vegetables in her home garden.
"The animal shed improvement has helped me to manage the animal urine and dung separately, and to make organic fertilizers and pesticides as well as reducing the labor effort, time and cost for chemical inputs", Parbati shares.
Visit to a climate smart village
With her new knowledge and skills, she started growing vegetables in her home garden. During an exposure visit, she saw a climate-smart village and learned new techniques for sustainable farming. She came back to her own home inspired and motivated to make her farm more resilient to climate change.
She was thrilled to see the first harvest after the improvements brought by the project, and her family now enjoys fresh, healthy produce. She has sold some of her excess vegetables in the local market and made NRS 3000 from her home garden production alone in first season.
Parbati and her family members were overwhelmed that even from a small home garden they could make income. This additional income has helped her family to buy some essential items for their household consumption.
Anyone can become a successful farmer
She has also learned about earthworm rearing and tunnel farming, and she is starting to implement these practices on her farm. She has ambitious plans to commercialize her farm in the future.
Parbati's journey of transformation from a homemaker to an emerging commercial farmer is an inspiration. Her perseverance and hard work are proof that with the right training, guidance, and support, anyone can become a successful farmer and contribute to their family's nutritional security and economic stability in remote parts of Nepal.
***This work is done with support from Finland's development cooperation.***